---
---
---

Pictures of upcoming projects
---
Bead Projects:
---
Beadie Animals
Basic Directions, Patterns & Links.
---
EILEEN's Original:

Beadie Patterns
Furbies, Pokemon and more!
---
EILEEN's Original

---
EILEEN's Original
Day & Night Beaded:

Bracelets
Beaded Keychains
---
Braiding:
---
Basic Lessons for:

Braiding:
Thread, Hemp,Gymp, Lanyard
---
Candle and Soap Projects:
---

Parafin Sheet Candles,Gel Wax Candles,
Magic Crystal Wax Candles,
Soap Making
Layered Cookie Cutter Bees Wax Candles and More!

---
EILEEN's Original:
Kwanza Candles Kwanza Links
---
Charity:
Crafts, Projects and Stores
Prayer Shawl Ministries, Knit One Save One, Chemo caps, Scarves for Special Olympics and more!
---
---
Clay Projects:
---


Home Made Clay and Polymer Clay Basics.
Projects and Lessons:
Canes, Marbeling,Clay Beads, Molds and MORE!
Where to buy Clay and clay books.

Silver Clay, Art Clay, PMC and more
---
EILEEN's Original Clay Projects:

Clay Rubber Stamp Projects.
Bible Crafts - Noah's Ark Pins, Adult & Senior Pins and more!
Clay Covered Light Switches.
Glow in the Dark and Native American Designs.
Clay On Glass Projects.
New Pictures!
Memory Book with Clay Cover.
Preschool to adult craft.
Clay Pencil Erasers.
Preschool to Teen craft.
---
EILEEN's Original Clay for Senior Citizens
For therapy and fun.
---
Senior Clay Projects:

Clay on Pens
Clay on Yogurt Bottles
Rubber Stamping and Antiquing Pins
---
Craft Projects:
---
Craft Basics
100s of Lessons and Links.
Including:
General Crafts, Recipes,Paper Crafts, Origami, Scouts,
Jewelry, Wire, Bead Crafts and Recycle Projects
---
EILEEN's Original: Camp Crafts
Pictures & Instructions.
Sand Art, Magic Dip Paint, Copper Crafts, plaster and more!
Homemade Salt Clay and Polymer Clay:
Covered Pens, Cookie Cutter Forms, Photo Transfers on clay,
play breads and of course more!
---
EILEEN's Original Recycle Crafts:
Baby Food Jar Projects.


See Press Release
---
Needle Crafts:

---
Needlecrafts:
Crocheting, Knitting, Sewing, Needlepoint etc.
*Sewing Fabric Bowls and Boxes.
*Fabric Origami and Japanese Fabric Gifts - Omiyage
*Yarn Sources
*No Sew Projects
*Jelly Yarns
*Juice Box Purses and Other Crafts
*Knitting Machines
---

Including Hawaiian Leis!

How to trim with fun fur.
---
*HAWAIIAN Leis (crocheting, ribbons and more)
*Knitting purses
*Knitting for the plus size woman
*Jewish crocheting
*Knitting Shawls, ponchos etc
*Unusual knitting and crocheting and more
---
SCOUTS, GUIDES, TROOP LEADERS:
---
---
Charity Projects,Crafts and Stores that Give to Charity
---
Special Event Crafts:
EILEEN's Original Embossing with Rubber Stamps and more
Embossing Lessons.


Embossing links and supplies.
Including UTEE projects.

Make your own formal Invitations,
Place Cards, Holiday Cards, Gift Tags and more!
Clay vases, Blo Pen Cloths and more!

Make Your Own Special Event Center Pieces
---
Treasure Hunting Crafts:
Treasure Hunting Crafts.
Geocaching, letterboxing, treasure hunting, using a GPS,
making your own treasure box, carving your own rubber stamp and more!
---
Parent, Teacher, Home Schooling Resources:
Supply Sources.
Candy/craft molds including Bible/Christian Holidays and more.
Books on Crafts, needlecrafts, felting, Beadies and more!
---
Anime, Pokemon, Digimon, Dragon Ball Z,Sudoku, Origami,
Kirigami, Omiyage, Japanese Lessons and more

Amigururi patterns
---
FUN SITES:
---
Fun Sites:
Games, Homework Help, Paper Projects, Origami,
Electonic Post Cards,
Lego, Knex, Yo Yo's, Harry Potter, Science Experiments and More!
---
Jewish Fun Sites:

Games, Hebrew, Yiddish, Holiday Fun,
Virtual Post Cards, Stories, Homework Help,
Bar/Bat Mitzvah Help and More.

Jewish Videos and Jewish Fun Videos
Serious, fun, educational Jewish videos and links to Jewish video sites.
---
---
JEWISH CRAFTS:

---
JEWISH BEADING:
---
EILEEN's Original:
JEWISH BEADIES
Jewish Holidays, Shabbat, Havdallah, Bible symbols, Chanukah,
Simcha Torah Beadie, Purim Beadie & Passover Beadies.
---
EILEEN's Original Yom Hatzmaut:

Bracelets
Beaded Keychains
---
JEWISH BRAIDING/KNOTS:
---
Eileen's Original Projects
Tallit Strings
Make your own Tallit or Tallis
---
JEWISH CANDLE:
---
EILEEN's Jewish Candles:
Havdallah Candles
Chanukah Candles
Shabbat Candles
---
JEWISH CLAY:
---
EILEEN's Jewish Clay Projects:

Clay Hebrew Name Necklaces.
Clay Mezzuzahs
New Pictures of Sculpey Terra Cotta Mezuzahs
Clay Havdallah Glass Spice Jars
Jewish Baby Jar Crafts
Clay On Wood - Yad

Hand shapped pointer used when reading Torah.
Jewish Rubber Stamp On Clay Projects.

Bible Crafts - Noah's Ark Pins,
Mizrach Plaque. Jewish Pins - Adults and Seniors and more!
MORE Jewish Rubber Stamp On Clay Projects.
Make your own Clay and Beaded Tallit Clips.
---
JEWISH CRAFTS:
---
Jewish Craft Basics:
Holidays, Jewish Symbols, Ritual Projects and MORE!
---
Jewish Holiday Crafts
---
YOM KIPPUR & ROSH HASHANA:
---
See my new Rubber Stamps on Clay Pins
and my Jewish resource pages for more information and craft links.
---
PURIM:
---
EILEEN's Original Purim Crafts:
Purim Beaded King, Queen Crowns and Purim Beadies
Lessons & Links


Purim Clay Yads
---
SUKKOT:
---
EILEEN's Original:

---
PASSOVER:
---
---
Chanukah
---
EILEEN's
Chanukah:
Yarmulkah patterns,Sewing, needlepoint, knitting, crocheting and more
---
JEWISH SPECIAL EVENTS CRAFTS
---
---
---
JEWISH SCOUTS,
GUIDES AND TROOP LEADERS:
---
Charity/Tzedakah Projects,Crafts and Stores that Give to Charity
---
JEWISH RESOURCES
& SUPPLY SOURCES FOR:
Parents, Teachers, Camp Counselors, Sunday School Teachers,
Day School Teachers, Early Childhood Teachers and More!

---
Tzedakah Projects,Crafts and Stores that Give Tzedakah
---
JEWISH VISITING ARTISTS/CRAFTERS
---
---
Links to Businesses with crafts, music, educational or fun things.

---
---
Stores and Sites that you may find interesting:

---
S & S Worldwide
Great for Arts & Crafts.


Great for preschools, camps,
sports programs, and elementary schools.
Has Jewish crafts too.
They also sell school supplies,
party and sports supplies.
Sign up for their Fun & Learning Monthly Newsletter
Get great craft tips plus extra savings codes!

---
---
Fabric.com Coupon Corner
---


Genwax.com


They carry many waxes including beeswax sheets.
---
Dick Blick Offers For Sale:
Clay, Clay Tools Including Pasta Machines, Art Supplies and Craft Supplies.
---
Dick Blick
Free 480-page Art Supply Catalog!
---
All Craft Projects Labeled:
EILEEN's are my original crafts.

© 1998, 1999, 2000, 2001, 2002,
2003, 2004, 2005, 2006, 2007, 2008, 2009, 2010, 2011, 2012
Eileen Chadis Wood
---
JEWISH CRAFTS
FOR :
CAMPS, SCHOOLS OR JUST FOR FUN AT HOME.

I have been asked to add to my site more Jewish resources not just camp crafts. Many of the sites and lessons on my General Craftsand Polymer Clay crafts have been used for Jewish Crafts.

I have added many crafts to this list that can be used easily for: Sunday Schools, Day Schools, scouts and others.

My pages for Purim and Passover:
crafts, beadie projects, recipes, links and fun!

Includes many links to Purim and Passover on the Net besides my own ideas and projects.
---
Eileen's Jewish Crafts:
My new original designs now include PURIM and PASSOVER projects!
The hottest kids crafts crazy in years are Pony Bead Projects for : Beadie Animals/Critters/Buddies etc. I have had many requests for Jewish Patterns. (Lots of crosses out there but nothing Jewish.) So my boys and I have made some Jewish Symbols to get you started thinking and designing your own. (Let me know if you design any and I will add them to my site.) See my beadie animal page for 100's of general patterns and instructions.
Our newly updated pictures of our Judaic Camp Crafts.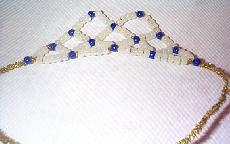 Beaded King and Queen Crown
that can be used for Purim.
Clay Mezuzahs Expanded directions.
Havdallah Candles - Rolled Beeswax Sheets.
Chanukah Candles - Rolled Beeswax Sheets

Clay on Glass - Shabbat Candles and Havdallah Jars.
Clay on Paper Mache- Havdallah Spice Box.
---
Eileen's Scouting Page
Has Scouting or Guide Information for Jewish Troops.
---
---




Don't miss Eileen Chadis Wood's
Articles for ShalomBoston.com

This is a list of more of my own Chanukah craft ideas as featured in article on Shalom Boston's Web site.


Beadie Tallit Pattern on Shalom Boston.com. (Designed by Eileen's son Micah)
Check out their great Holiday tips, articles, recipes, community guide, calendar and more!
They have some great menus and recipes for Passover too.
If you are visiting Boston and New England or live there. Check them out.
---
Visiting Artists Crafts
---
What are visiting artists?
Fellow crafters, in this case of Jewish Crafts, that have unique craft projects they are willing to share but do not have a web page to post them on. I am posting their crafts on my site for you to be inspired or to use their great lessons/crafts.

Have a craft or Jewish craft to share?
Email me at ecw@chadiscrafts.com
---

---
---
---

Sharon Morrison ritual items
Beaded yad, Tzedakah box and oil lamp
---
Eileen's Favorite WWW Jewish Crafts
The following sites are mainly for holiday crafts.


Shalom Y'ALL!


Remember to hit reload ever time you come to this site, as I update frequently and most computer networks save old copies to "help" you.
---


Jewish Craft Cuts
Incredible fine artist and Judaic artist, Goldie Silberberg has kits for paper cutting and free lessons to share.

She also has beautiful Judaica for purchase on her other site. Ketubahs, family trees, Bar and Bat Miztvah gifts and more.
---
JTS's Melon Centers - Kids Corner Holiday Coloring Books. Coloring pages and poster for all of the holidays. Also has lessons. With links to more things to do.
---
Virtual Jerusalem
1000's of Links to Israel, fun, crafts, games and information on Jewish Holidays, Hebrew lessons and more. Including Chanukah, Passover, Rosh Hashana, Yom Kippur, Sukkot and Purim. Plus MORE!
---
About.com Judiasm sites A huge resource. It has crafts for holidays etc. You can also use their search engine to find more.
---
---
Holiday and Year Round Jewish Crafts
---

---
JudaicaJournal by Dr. Mom. Wife, Mother, Doctor, Artist. Has a blog with incredible pictures of Judica including needlecrafts. Great inspiration.
---

S & S Worldwide
Great for Arts & Crafts.


Great for preschools, camps, sports programs, and elementary schools.
Has Jewish crafts too.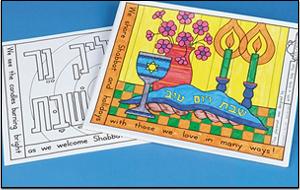 Shabbat Shalom set of 10 place mats to color. #GA2623
Search on Jewish, Shalom, Hanukkah. They have 10 plus kits.
They also sell school supplies,
party and sports supplies.
---
---


Making Friends Store
Need beads? Scout craft supplies? Basic kids craft supplies? Bulk packs for scouts, Sunday school teachers, homeschoolers and more! Check this store out.


Making Friends Jewish Craft Pages. Including featuring two of my Jewish bead patterns with great diagrams and instructions. One for my dreidel pony beadie and the other for a Star of David beadie.

This great and every changing site for crafts and pony bead projects has some crafts that can be adapted for a Jewish setting. In addition to the new style paper dolls discussed on my General Crafts page, the Jewish craft section of Making Friends includes clothes from the bible to use on their paper dolls. The children can color and decorate the clothes. Suitable for Temples too! Looks great for Sunday schools especially for props for Tot Shabbats. Another interesting craft on this site that can be used in a Jewish setting is a Making Friends.Com - Beaded Tiara.Could be used for Purim Queen Esther crown. Uses pipe cleaners and pony beads. Cute!
---
Homeschoolzone's Pitter Patter Craft Library.WoW! Some really great and unusual crafts! It has been around for awhile, don't know how I could miss this! I am listing it main craft (100s and 100s) on my Basic Craft pages. It does have * Holidays. Including a few Chanukah and Passover Crafts, Recipes and Book Suggestions.
---
Torah Tots.Com. Great religious education site for young children. It includes: games, stories, educational links, music and more. It also sells baseball style cards about the Torah called "Torah Cards" to collect. It has *Fun and Games as well as Coloring pages suitable to use in : Preschools , Day schools and Sunday Schools as print outs, craft projects or to just for fun to color on the computer. It includes coloring pages for *Chanukkah, *Sukkot, *Rosh Hashanna, *Yom Kippur, *Tu B'shevat, *Purim, *Passover, *Shavout,and the *Morning Prayers.
---
JOANN Fabric and Crafts stores in addition to the pony bead patterns listed above has many general craft projects for adults and children. They include a few with Judaic themes including: decorating for Elegant Beaded Menorah and for a Making a Children's Menorah.
---
IdeaNet. THE Internet resource for Jewish youth professionals. Great resource with opportunities to post questions on their teacher help pages. With back issues of this List to browse. Has lots of categories with a search engine for ALL Jewish professionals with links to schools, Shuls, youth groups etc. Check it out.
---

Free Kids Crafts - Jewish crafts Has a page of links. Plus Chanukah and Purim Crafts and more! She has started a page of Bible Crafts that include links to some shared crafts and Jewish Bible Crafts.

Now has a Passover Page.
---
Design Originals Publishes Craft books on many subjects including many on beadie animals. Has a great suggestion for a Tzedakah (charity)project. You make a beadie animal, they suggest a gecko (lucky?)and give it away or send it to them and they will give it to a charity.Called the Gecko Club A nice suggestion to get Sunday School teachers thinking?
---
Holidays on the Net An award winning site. Has Holiday information, stories, games, crafts, greeting cards, links, teachers guides and MORE! Holidays include all Purim, Passover, Shavuot, High Holidays, Chanukah and more.
---
Shrinky Dinks.com Has a site with directions for the plastic shrink art sheets. This is a fun craft and easily adapted to a Jewish Theme. What ever you can draw or trace can be made into a key chain, magnet, jewelry etc. The site offers seasonal and other free patterns of the month, plus directions for making a project. I have done this craft with even 3 year olds using colored pencils. (on roughed up sheets - see their prebuffed ones.) We at camp used 1/4 sheets, punched with paper punch and made great key chains. No limit to the imagination on this craft. See my parent page for more info and links to ordering information.
---

BillyBear4Kids.com Chanukah Page. Includes Print a dreidel and make your own Chanukah Note Paper. They now have Passover Pages
---
Kid's Domain.ComHas PC and Mac Shareware and Freeware Programs for Kids recommended by families and teachers. Demos, reviews, programming for kids, and graphics. Holiday pages with mazes, puzzles, software, and crafts. Chanukah Crafts Including: *new wooden Driedle and *felt dreidel pin and more! Just added Passover crafts.
---
Rings&Things Project Page Wire and bead star. 6 sided!
---
---
Sandra Lynne's Gallery for Judaic Crafts
This site has lists of Jewish Needlework,Crafts and Supplies. Including: patterns, instructions, photos and ideas. I have had this site on my needlework page for a long time.
---
Jewish Nature Project. This site has a Jewish Nature Project Craft Page. It's Past Projects are really intersting. Some of my favorites are the Black Walnut Stained Challah Covers and sand candles. Actually I like the sound of all of them! This a great nature site for scouts, parents, teachers and more. Great Teva (nature) Tips.
---
AKHLAH: The Jewish Children's Learning Network
Fun with Jewish and Hebrew lessons. Learn about Heroes, holidays, Israel, Parshas and Hebrew. Includes great coloring pages including Alphabet posters.
---


Hanukat.com
Stories, crafts,recipes, songs, lessons and more on Chunukah. Its great. It now has Hanukat Celebrates Passover Crafts, games, stories and more!
---
Amazingmoms.com Another Huge site has Hanukkah crafts.. It has many other crafts, parent ideas, recipes and more.
---
Childfun.com Has some Jewish information. Including Passover and Childfun.com's Hanukah pages. Some crafts and many coloring pages. This site is huge it has many holidays, crafts, recipes and more. Great for homeschoolers.
---
Aish.com holiday PagesSome how this great site was lost in my bookmarks! Great Educational site for adults also has holiday information and fun activities for children. Including Purim Coloring Pages and more!
---
Judaic Crafts a Chez Alaine
Diagrams including many Hebrew Alphabets counted out and some patterns for popular words in Hebrew.
---
---
Buy books at Amazon.com and help support this free site!
---
These are just a few for the Jewish Crafts books my family have enjoyed at our house.




---
DO NOT FORGET TO CHECK EILEEN'S OTHER JEWISH PAGES:

The Resources pages got too long so they are now divided:

Parent/Teacher Resource Link Page
Generic catalogs and ordering information plus other resource links.

Jewish Fun sites.
Hundreds of Links to sites for reading Jewish stories, comic books, GAMES ( for little and big kids), music, make email cards, Holiday fun, learn Hebrew and Yiddish words and MORE!
---
Don't for get to check my other pages for Jewish Scouting Links
---