Eileen's Camp Crafts
Chadis Crafts Fun Pages
Make Your Own Ritual Wear
---
Make Your Own Tallit.

Make Your Own Clay Covered Yad.
Pointer used while reading the Torah so body oils don't get on the Torah and helps you keep your place with the small print.
Make Your Own Tallit Clips
Make Your Own Challah Covers (center pieces for Simcah)
More Coming!
---
While I was planning my own sons Bar Mitzvahs, we tried to add our love of crafts and making Judiaca into the planning.
We had lots of hopes, Ronin and I, over things we wanted to make ourselves. Decorations, ritual items etc. Ronin used his caligraphy skills to write his own invitations and we learned together to use rubber stamps and embossing powder/heat gun to make it look special. Being a boy, I thought he would love to work with a electric tool, especially one that gives off heat. He and everyone else that watched just loved it! We were hooked!

With Micah's Bar Mitzvah we added used some other techniques, clear embossing etc to make his look different then Ronin's.
See my embossing invitations pages.

For Ronin's Bar Mitzvah we bought a tallit that reflected his artistic flair.
He did make a tallit in 6th grade Sunday School for use at Temple for morning prayers during Sunday School.
For his Bar Mitzvah tallis, we found a blue silk painted one that has Jerusalem painted on it. He actually has two tallit as my father's wonderful Rabbi sent him a tradional one as a present. His Zadie and Bobbie gave him hand painted silk one at his Bar Mitzvah. It reflects the love of painting and crafts that we both inheritated from my Dad. I, of course, crocheted a kippah for him that matched.

For Micah's Bar Mitzvah we had the opportunity to weave a woolen on at the new Weaving program at our Jewish Community Center. Micah and I wove it together taking turns on the loom. Micah ended up doing most of it.

To see pictures see: Chadis Crafts Weblinks
---
Make your own Tallit (tallis)
---
Jewish Knots and Braiding Projects
Tallit Knot Tying (Jewish Prayer Shawls)
Make your own tallit?
---
How to Tie Tiztzit
Many Jewish Camps, Schools, Scouts etc. teach how to braid hemp or gymp. My son's Sunday school made their own Tallit! This tallit was to be used in prayers before Sunday school. (so really informal) The choices for material were very unique.
I have since seen great material at Judaica 1-800-Dreidel.com.
See my Jewish resources for links to them. I highly recommend this project. If you are not ready for this yet, how about learning to tie the tallis/tallit strings as a great heritage project instead of just playing around with knots, braiding, etc of hemp or gymp? A perfect project for Jewish Scouts/Guides and Jewish Camp Crafts.
You can order kosher string online from Judaica stores.
I always bought mine from the Israel Bookstore in Brookline MA.
To learn to tie the strings called Tzitzit check this out:
Hanefesh.com's Tzitzit tying page.
Hanefesh is an educational group geared to university students but has some great free directions for tying tzitzit including different traditions for typing them.

They only have one way at this point. I have asked them to put back the directions for other traditionns. But here is one version.
How to tie.
---

---

Temple San Jose.org has a pdf file on how to tie a Tzitzit.
---

---
Make your own Tallit for real?
Many Sisterhoods, Temples etc are having classes on making your own tallit. If you need guidance check out the companies for kits and directions on my Jewish resource page.
---
Trim a Woman's Tallit
Don't want to tie the knots or weave the fabric or sew for that matter.
Crochet the edge or the attarah.
See see the wedding veil that I edged and tallit I also edged and beaded for myself.
---
---
1-800-dreidle.com's fabric store
Always a great source for any Jewish craft project
---
Make Your Own Clay Covered Yad
See my Purim Page for a new idea on Clay Yad's for Purim.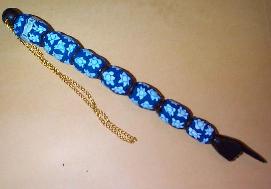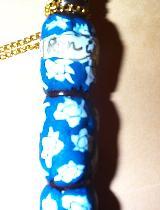 Materials:
Sculpey Clay Canes. See my Clay Pages for help making canes.
Wooden Yad
Permanent Gold Marker
Scrap of White Sculpey
Cane slicer or other sharp clay cutter.
Wax Paper for clean work surface
Parchment paper to bake on.
Pyrex dish big enough to hold the yad when baking.
Clay Glaze or Future Floor Wax if a shine is wanted.
When you have a last name of Wood as I do, I enjoy finding and making Judaica out of wood!
With the wonderful help of Lauree at 1-800-dreidel.com we found these beautiful wooden Yads with a gold chain. (see my jewish resources pages to find a link to her great company. She still has more yads! )
With the help of my son Micah, we softened the clay and made a huge cane in blue and white. It was to be a Jewish Star. When smoothed and rolled, as we used Sculpey a softer clay, the clay turned into different shades of white and light blue. The stars came out a little more flower like, but we loved it still.
The yad had been made with a nice finish and actually had 7 spindle turnings. So we decided to cover only the thick part and leave it to look like beads with the wood showing in between.
I placed the canes on the yad as thin as I could. I was worried about the weight since I want Ronin to be able to use this while reading Torah. So I cut the canes as thin as I could but careful to make it not too fragile. About 1/4".
To personalize it I covered a spot on the top with white clay all around the yad. I marked with a permanent gold marker after baking his first name and the date of his Bar Mitzvah.
I took off the chain for the baking in the oven. I used my home oven using a pryrex dish covered with parchment paper.
We have not glazed the clay yet. We have not decided if we need the protection. We live the feel and look as it is. We may use Future Floor Wax to give it a little protection with out a heavy gloss or even satin shine.
See my clay pages to learn how to make the cane slices used in this craft.
---
Make your Own Mini Yads
Perfect for Bar/Bat Mitzvah students or Older Teens to use when reading from the Torah or a prayer book.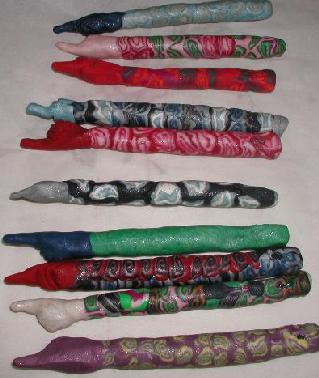 I was asked to teach a clay class to 8th and 9th graders at our Sunday school. It was my son Ronin's class.
I picked a small yad for budget concerns and the fact that I thought they might want a smaller easier to carry one. These are made on an aluminum foil frame.
Materials:

Sculpey clay.
They get excited and used a lot of clay but they probably used less than an ounce when done. Good thing I reuse the left over canes and mixed colors!
Aluminum foil. I used the precut sheets now sold in stores. Quicker to teach and neater then you measuring them out for everyone.
Long metal pointy tool to make hole for chain. (optional hole)
Ball chain key chains. (optional)
Tooth picks for detail work on hands.)
Safe polymer clay cutting tools or a bulk pack of metal gymp/lanyard bracelet blanks.
Wax paper sheet for each student for a clean work surface.
Baby wipes
To clean hands as they change colors.
Rolling pins, metal tubes or pasta machine for rolling sheets.
Pachment paper to bake on.
Pyrex baking dish
One you use only for baking clay on.
I won't go over the basic how to use clay, see my clay pages for ideas.
After making the canes, (most used jelly rolls or canes made using a few jelly rolls together I gave each a cutting tool and they sliced there canes.
I gave each of them a sheet of the precut aluminum foil.
Fold in half length wise.
Fold over about a 1/4" and roll to the end.
Pinch tight.
Pinch and Twist about the first inch to make the bottom of the hand.
Pinch the tip into a finger shape.
Cover handle with cane slices.
Roll back in forth in hand to smooth the clay.
Cover the hand with a solid color of clay.
Use tooth pick to make finger lines.
Use pointy metal clay tool to push a hole through for key chain.
Scratch their initials small into the end of the yad about 1/2" from the top.
Bake for about 30-40 minutes at temperature marked on clay box.
After cooling string through the hole the key chain.
If hole as closed or moved, you can use an xacto knife carefully and chip off some of the clay. carefully and slowly...
I will take a picture of the aluminum foil frame and post later.
Not to brag. But my son Ronin managed to make his initial into a cane. Taught himself and will have to teach me.!
---
Make Your Own Tallit Clips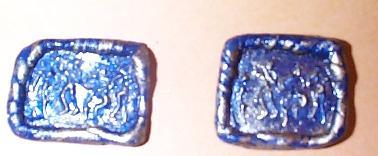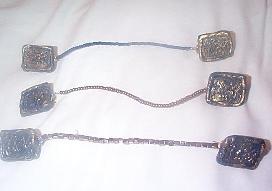 By now if you have been to my site before, you know how much I like working with clay and rubber stamps! Especially the ones I fund in the Zum Gali Gali Catalog!
(see my Jewish resources pages for links to their site.
---
Materials needed for clay project:
Sculpey Clay - 1 oz. (should have left overs.)
Rubber Stamp
Wax paper to keep table clean.
Plastic knife or clay cutting tool/
Tallit or other clips.
Chain or bead wire.
If using wire, 2 crimp beads.
Pliers
Glue that works with metal and plastic (Sculpey is a polymer clay.)
A chain or something to make into a chain.
Pyrex baking dish.
Baby Powder
Oven

I used blue Sculpey Clay and dusted lightly the rubber stamp with baby powder to allow easy release of the clay. I often do this when I am worried about the shape and size the stamp will leave. Especially when I want to make two that matches. I made the clay into a ball and pushed down so it ended up about 1/4" or so thick. It is hard to see the design of the band playing. I took a little bit of clay and rolled on a piece of wax paper (to keep the clay clean and the clay from your table) a thin long snake. I twisted the snake rolling over and over. I wrapped it around the edge of the stamp to give it a frame look. Cutting off the extra.

After baking I dusted lightly my glaze covered paint brush with gold metallic clay powder. This helps the design show and makes the clay look more professional.

As you can see there is no chain yet. The clips I bought, again after much searching, from Lauree at 1-800-dreidel.com did not come with a chain. They were not made specificly for clips.

I will glue the clay onto the clips. These clips did not come with and attached chain. There is a loop to add a chain to the clips.

Ronin, being my son, loves beads. I tried a few different beads with a matte finish to make something beaded without it looking girlish. I used a soft wire and crimp beads to bead the chains.

The theme though of the band for his clips, was an easy choice. We are making a set for his dad and my father. Ronin's name in Hebrew means Joy and Singing. He plays mallets/bells in his Band at Junior High. He also plays paino a little. My husband for fun plays violin and viola in the York River Community Symphony and the Friedlach Klezmer Band. (Both are volunteer bands. The Klezmer group only plays for Charities!) So I knew I wanted this stamp as soon as I saw it! It comes in two sizes, this is the smaller one. Of course I bought both! I MAY be offering through my business, Chadis Crafts and Kippot, some special orders for Yads and Tallit Clips in the future.
Email me at eileen@chadiscrafts.com