Passover Recipes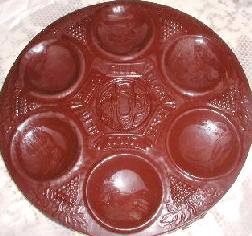 With my desire to get more organized, I realized I needed a way for more people to print out my recipes.
Here it is.
For my full Passover page for crafts, sources, educational and fun links see my full Passover resource page.
---
Make Your Own Chocolate Seder Plate in chocolate or for crafts in plaster .
See my Passover page.
---

Passover Must Make Recipes!
RECIPES:
---
These were my Mother's or at least her favorites.
She so very rarely ever wrote a recipe down.
I don't know where she got them.
She used these for years.
Everyone loves them and always wants the recipe.
If you tell me they are from some book or someone else, I will believe you and give them credit.
My mother never used recipes other than for Passover and Purim.
Everything else was trial and error.

Hope you enjoy.
---
Passover Brownies

1/2 lb margarine
(I use parave stick margarine)
2/3 c Baking Cocoa
1/2 teas salt
4 eggs
2 cups sugar
1 c cake meal
2 tbs potato starch
1 c nuts(optional)
melt margarine and cocoa and cool.
add eggs and sugar beat well
add rest
bake 350 for 35 to 40 minutes in large pan
Mom said this is a double recipe.

I still doubled this recipe and used large jelly roll pan (size of cookie sheet with a higher rim) made enough for us and presents.
---
Martha's and Tzvi's Passover Granola
1 lb. matzo, crushed, or 1 lb. matzo farfel--about 6 cups
1 cup matzo meal
1 Tablespoon cinnamon
1 cup chopped nuts (walnuts or almonds)
1/2 cup sesame seeds (optional)
1-1 1/2 cups packed brown sugar
1 cup oil
2 teaspoons vanilla
1/3 cup water
Raisins
Combine crushed matzo/matzo farfel, matzo meal, cinnamon, sesame seeds and nuts in large bowl.

Heat oil with vanilla to very warm.

Dissolve sugar in water and boil one minute.

It's also fine to combine all of the liquids, dissolve the sugar in the liquids, and then boil one minute.

Add the hot liquid to the dry ingredients, mix thoroughly, and cook in shallow pans at 200 degrees until dry (about 2 hours).

It will dry in clumps, which is just fine.

Use like regular granola--also good mixed with plain yogurt and fruit.

Stir in raisins and store.
---
Need more recipes?

Check out my full Passover resource pages.
---
Bulkie Rolls
---
Passover SANDWICH ROLLS Great for lunches for kids to bring to school.
---
Passover Rolls
SANDWICH ROLLS

Great for lunches for kids to bring to school.

Found a very similiar recipe on a blog with the notation it came from a very old recipe of Manischevitz but used peanut oil.
I prefer cottonseed oil because of allergies.
---
2 c matzah meal
1 teas salt
1tbs sugar
1/2 c oil
1 cup of water
4 eggs

1.Combine matzah meal with salt and sugar
2.bring oil and water to boil
3. add to dry ingredients and mix well
4. beat in eggs one at a time
5. allow to rest 15 minutes
6. with well oiled hands shape into rolls
7. place on well oiled cookie sheet
8. 375 for 50 minutes or until golden brown




I have been told by my friend Martha, that if you put them in a 450 degree over for 5-10 minutes and then lower the temp to 375, they will rise better. makes 12
I even made some in hot dog roll shape.
I have been told to freeze what you wont use in a day or so.
(Can get moldy)
© 1998 - 2019 Eileen Chadis Wood

Lessons and recipes can be used in classes with &copy acknowledged. Lessons,recipes and pictures can not be used for commerical use.
---
This page is dedicated to the loving memory of
Pearl Smolker Chadis.
Born February 1917 Died Dec. 2008
Passover will not be the same with out her.
Pearl was the last of 9 children of Louis and Sarah Smolker. .
Fried Matzie (Fried Matzah/Matza Bria)

With loving Jewish mother tips in Brackets
---
As it is not Passover with out Friend Matzie and Matzah with Temptie Cream Cheese often during Passover.

Since I do not use a real recipe, here is my attempt to write it down.
Ingrediants:

One egg for each piece of Matzah you are using.
I suggest at least 2 pieces of Matzah per person.
Milk just enough to thin the eggs out a bit. (don't have a clue how much I use but about 1/8th of a cup per matzah)
pinch of salt
Lots of butter or margarine as this will stick to pan other wise.

Directions:

Use a teflon coated frying pan or use extra butter.
If you can find Kosher for Passover spray margarine spray pan too.
Place matzah in a large bowl.
Brake the matzah just enough to fit in your bowl and add warm tap water to cover. (Did not realize this step was optional until I visited a cousin's house who did not soften the matzah. We like it soften.)
Let soften a minute or so.(Usually by the time I put the margarine in the pan.)
Drain and squeeze the extra water out of the matzoh. (I just use my clean hand and press down and hold to not lose the matzah into the sink.)
In a second bowl, crack eggs one at a time and check for blood spots. Discard any blood spots or bloody eggs. (Kosher rule for all egg dishes- no sign of life I think. Don't see much of these eggs these days.)
Add milk and salt to eggs and beat them to mixed.
Add eggs to drained, soften matzvah
When margarine or butter is melted, add Matzah/egg mixture.
Cook as you would scrambled eggs. Browning slightly. (You have to watch careful not to burn. Add more butter or margarine if you see it sticking.) Flip often to check.
Serve immediately.

So.. how can you tell a modern Jew, Russian Jew, convert etc when eatting fried matzah?

Watch what they put on their fried Matzah.

Choices:

Sour cream
Sour cream with fruit jam/compote
Maple syrup
Passover pancake syrup.
More salt
Other toppings?
In my house, I always ate (before allergies) with sour cream and jam.
My boys copy their dad and use huge amounts of pancake syrup.
---
Auntie's Mandelbrot #1 and #2
(Which aunt I am not sure.)
I suggest you read both recipes and you might want to adjust the tips yourself.
A traditional Jewish hard long biscotti like cookie.

#1 Rated Very Good by my Mom

3 eggs
3/4 cup of sugar
1/2 Cup oil
1 1/2 cups of Matzo CAKE meal
1 tbs potato starch
1/2 cup chopped nuts
The following can be added if you find them kosher for Passover or can be skipped and still taste great:
1/2 to 3/4 cup of coconut.
1/2 cup cut up cherries

Mom added that you can add some of the cherry juice later if dough is too stiff.

Also chocolate chips or raisins can be used instead. She liked chocolate chips with nuts!

Beat eggs & sugar until light
add oil, cake flour, potatoe starch and mix well.
add nuts, cherries and cocunuts

Oil your hands if needed for the next steps or add the cherry juice at this point to the dough if too stiff. She said she used almond extract instead of cherry juice some time.)

Divide in half and form in to long rolls on a cookie sheet
Pat rolls to 3/4" high
Bake at 350 degrees for 30 minutes or done.
Remove from oven slice 1/2 to 1" thick.
---
#2 Auntie's Mandelbrot

Rated good by Mom

3/4 c oil
3/4cup of sugar
additional 2 Table spoons of sugar for use later
3 eggs
3/4 cup matzo CAKE meal
1/4 cup matzo meal
2 table spoons of potato starch
1/2 tsp salt
2 Table cinnamon
Juice and zest of 1/2 lemon (grated lemon peel)
1 cup almonds sliced
In a bowl use an electric mixer to blend oil, 3/4 c of sugar until light
Add the egs and blend thoroughly.
In a second bowl combine cake meal, matzo meal, potato starch, salt and 1 1/2 teaspoon of the cinnamon
Sift them together and then blend into the oil while alternating add into the lemon juice and zest.
Fold in the almonds
Cover with plastic and refrigerate for 1 hour for easier handling
Preheat oven to 350 degrees.
Oil hands
Divide the dough into 3 or 4 balls.
UNTIL DONE???? (I am guessing about the 30 minutes of the other recipe but check as you bake as this recipe is baked again to brown)
Cut into slices and sprinkle the 2 tb of sugar and 1/2 tsp of cinnamon on top
Return to oven for about 10 minutes on each side to brown
Shut off oven and cool.
Cook also on a rack
---
Matzo-Almond Bark
Original recipe found on FamilyFun.com's Matzo-Almond Bark Recipe
Our family favorite!
---
HERE IS THE EXACT RECIPE:
This simple dessert is so delicious and easy to make, it sould be considered the eleventh plague.
5 to 6 pieces plain matzo
1 cup unsalted butter
1 cup sugar
12 oz semi-sweet chocolate bits
1/2 cup silvered almonds, crushed

1. Heat the oven to 400 degreees. Line a cookie sheet with aluminum foil and lay the matzo in a single layer so that it completely covers the bottom of the sheet.

2. In a saucepan, melt the butter and sugar over low heat.
Raise the heat and boil the mixture for 3 minutes.

3. Pour the butter and sugar mixture over the matzo and spread it with the back of a spoon. Place the matzo in the oven for 5 minutes.

4. Remove the cookie sheet from the oven and immediately pour the chocolate bits over the matzo.

5. Return the sheet to the oven for 30 seconds to melt the chocolate. Remove the sheet from the oven and smooth the chocolate evenly over the matzo with a spatula.

6. Sprinkle the crushed almonds over the top.
Refrigerate for a least 1 hour or overnight.
Break into pieces and serve.
Serves 12.

TIP: We've never actually had any left over, but I've heard it keeps for about a week covered in the refrigerator.

That was their recipe!
---
Eileen's Tips:
Use parave stick margarine with parave chocolate chips. Tastes great!
I find the matzah does not fit on most of my cookie sheets. Don't worry just break to fit. You are going to break them into pieces anyway.
Be careful to boil the sugar carefully not to burn it but long enough so that it thickens some.
---
To return to Chadis Crafts' Passover Pages