Chadis Crafts' Fun Pages
JEWISH PARENT AND TEACHER RESOURCE LINKS

This page was designed to help parents, scout leaders and teachers find information about crafts and were to order often hard to find supplies. As a former teacher trainer and member of many education committees, I just can't resist listing sites I find on the net that look helpful to teachers.

I have divided these pages (again!) into multiple pages: Parent/Teacher Resource Page for supplies and resources that are of general interest and Jewish Parent/Teacher Resource Page. I suggest that Jewish teachers look carefully through both pages as many of the basic skills and lessons listed are invaluable and can be applied to any setting. Now I have divided the Jewish resource pages into resources and a new Jewish supply sources.
World Wide Web Resources

---

Fundraisers and Personalization Gifts
---
---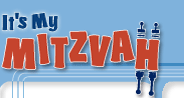 It's My Mitzvah

Honor a special occasion with our unique line of printed, personalized favors for bar mitzvahs, bat mitzvahs, weddings or other celebrations. Print water bottles, scrubs, sports balls, t-shirts, ball caps, travel cd cases and much more with your name and celebration date.
---
More World Wide Web Resources:
---

Custom made Siddur Covers are her speciality! Buy one for a gift or order bulk for schools.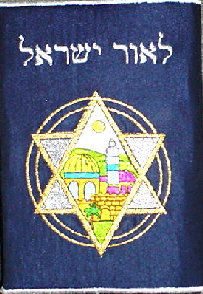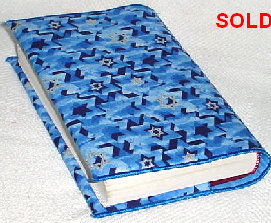 They are made of high quality 100% cotton fabric, fused to Timtex, and then satin stitched all around. They are easy to put on - just slide book into the front and back pockets. They are also machine washable

Siddur covers can be plain fabric or personalized with machine embroidery of your choice.

One of the many high quality custom Judaica Lori makes. She can machine embroider and sew. She has any items in stock and does incredible custom orders. Challah covers, tallit bags, holiday items, Shabbat items, fabric bowls, Chumsahs Wall hangings, wedding favors, Bar and Bat Mitzah items and more!

Yard Flags for all holidays and can be custom designed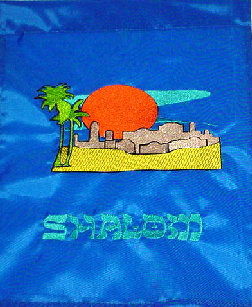 ---
J-CRAFTS at yahoogroups.com
Jewish Crafts discussion group. A perfect place to "meet" other Jewish Crafters. Great place to ask questions and get ideas. Has achived links to Jewish Crafts, suppliers, professional craft events, needlework info and much more!


Click to subscribe to J-CRAFTS
---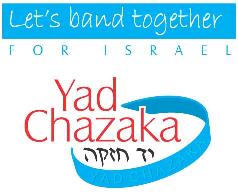 Yad Chazaka.org
Charity to raise money for programs and charities in Israel. Perfect for your Purim tzedakah gifts. Children and teens especially love the blue bracelets they sell that say Yad Chazaka on them. Adult and children sizes. Very reasonable plus all funds go to Israel.
---
101rosh-hashanah.com's E Cards.
Also has e-cards for other holidays and Jewish events. Plus Rosh Hashana recipes, information, jokes and more.
---
JTS's Melon Centers - Kids Corner Holiday Coloring Books.Coloring pages and poster for all of the holidays. Also has lessons. With links to more things to do. They set that page up kid friendly then set up other lessons and games for parents and teachers to do with children. Additional lessons include Holidays, leading a seder, Names of G-d, Siddur Geography, book reviews and more!
---
Judaiquilt.com
Resources and Links for Jewish Fabric crafts. Supply sources, pattern sites and more! A great resource page.
Berit's Best Sites for Children From Cochran Entertainment producers of TV shows. This site reviews children sites and rates them. It lists over 600 sites (indexed with a search key) that she thinks are some of the best sites on the web she includes a few links to Jewish sites.
---
The Jewish Agency Pedagogic Center Huge very professional ( as expected from the Jewish Agency!) Huge resource for Holidays. Including Lesson plans.
---
Berman Group.com's Jewish Youth Activities.Recommended by the Jewish Agency. A long list of Jewish/Hebrew sites for youth.
Berman Group.com's Jewish Holiday Sites Recommended by the Jewish Agency. A long list of Jewish/Hebrew sites for holidays
---
United Jewish Community of Virginia Peninsula's - Jewish Web Links Page. !00's of links to Jewish educational, Israel, Media, Language, holidays, Holocaust, Kosher Food. Links to Jewish web sites for many cities in the U.S.
---

THEY CHANGED ADDRESSES AGAIN!
Virtual Jerusalem
1000's of Links to Israel, fun, crafts, games and information on Jewish Holidays, Hebrew lessons and more. Including Chanukah, Passover, Rosh Hashana, Yom Kippur, Sukkot and Purim. Plus MORE!
---

The Jewish Resource Page Lists and Links to 100's of Jewish sites of general interests, Holocoust, genealogy, Books, Hebrew, Yiddish and Resources from Universities.
---
Over 300 Jewish Links Page. Has some interesting links not easily found especially for Jewish Publishers and stores plus links to all areas of Jewish Interests.
---
---
---
---
---
---
---
---
---
---
---
---
---
---
---
---
---
---
---
---
---
---
---
---
---

Shalom Boston.com's video series "From a Rabbi's kitchen"
Video on how to make High Holiday round challah bread

---

Very moving video on the people that blew the shofar when it was illegal to blow the shofar at the Kotel under British rule.

---
---
---
---

---
---
---
---
---
---
---
---
---
Maven Search - Rosh Hashana SitesAbout 50 sites and Yom Kippur about 20 sites.
---
---
---
---
---
---
---
---
Holidays at Caryn.com
Stories, music and more. Has links to many Hanukah Graphics,
---
---
---
Lookstein.orgThe virtual Resource Center. The School of Education and Bar - Ilan University in Israel offers help to teachers including lessons plans for Jewish educators outside of Israel.
---
---
---
---
---
---
---
---
---
---
---
---
Temple Sinai's Biblical Garden (Newport News, VA)
More inspirations on how to make a biblical garden.
---
---
---
---
WWW RESOURCES:
Hebrew and Yiddish
---
Jewish Software.com


Shop their store for a full line of Educational and Recreational Jewish software.
Great for clip art for all of your scrapbooking, crafts and newsletters. Learn Hebrew and more!
---
---
---
---
---
---
---
---
---
---
EILEEN'S
RESOURCE LINKS FOR PARENTS AND TEACHERS IN JEWISH SETTINGS:
Check out my Eileen's Orginal Craft and Resource Pages.
---
and
---
Eileen's Chanukah Page.
---
---
My page of Craft Pictures that will hopefully give you ideas for your own Jewish crafts for: clay, sand art, copper rubbings and more.
---
Eileen's Jewish Craft Pages.with hundreds of crafts.
---
---
---
Eileen Chadis Wood's
"Chanukah Crafts and Starting Your Own Family Tradition."
This is an article featured at ShalomBoston.com
Eileen's Chanukah Craft Ideas. This is an article featuring a new list of more of my own Chanukah craft ideas.
Check out their great articles, recipes, community guide, calendar and more!
Now has some purim pages.
It has an article by Eileen about
Purim Crafts and Traditions.
If you are visiting Boston or live there.. check them out.
---
WWW
Jewish Scouts & Guides Resources:,
See my Scouting Pages.
I am trying to be more organized!
I am moving all of my Scout and Guide resources to my new Scouting Page. This will also list Jewish Scouting Resources and Links.
---
---
Jewish Craft, School and Holiday Supply Source Pages
---
To return to the top of this page.
---
---
Web page and beadie designs ©1998 - 2019 Eileen Chadis Wood.
Use at home or in the classroom permitted as long as copyright is acknowledged.
---
This site is sponsored by Chadis Crafts at Etsy and www.chadiscrafts.com.