ROLLED TAPER CANDLES
BEESWAX AND PARAFIN WAX SHEETS

For Chanukah, Shabbat or Everyday Dining
---
Chanukah Rolled Beeswax Sheet Candles
---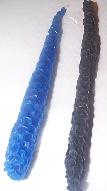 LEVEL: Preschool to Adult
---
There are many special customs and prayers to make this a special time.

See My Parent/Teacher Resource page for more information on this special Jewish holiday and the very special event where I taught these crafts.


Genwax.com for information on where to buy the wax and lots of lessons on candlemaking.
See my Candle Page for general candle information.
Chanukah candles come in all sizes to fit into many different Candle Holders. (called Menorrahs or Chanukias)
They can be any color.
---
Chanukah Rolled Beeswax Sheet Candles

General Directions:

Use thin wicks, not wire wicks, as it will cause the wax to burn too hot.
Tightly but gently roll all candles. (Air/bubbles will also cause them to burn too fast.)
I used a safety metal cutter for cutting cane/polymer clay slices. Safe around children
---
Style #1 Chanukah Candles Tapers 8"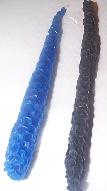 Materials for one :

8 1/2" Thin (small bleached) wicks
1 right triangle sheet of wax made from 1/8th of a sheets.
Sheet of Wax paper or parchment paper to work on.
Computer label to write children's name on
---
Directions:
Place sheet long wise.
Cut into two 8" squares.
Cut each square diagonally. (now you have 4 right triangles.)
Cut each triangle in half = 8 candles from one sheet.
Take 1 triangle (place like a right triangle)



place one wick on to the bottom edge of the triangle. Press gently. A small amount should be left over the edge.
Roll and gently press down JUST covering the wick. (about 1/4")
Keep rolling and gently pressing VERY little at a time.
Gently press and roll out any air pockets.
1 Write child's name on label and place on finished candle.
Repeat for other colors or candles.
---
Style #2 Small Candles 4"

Material needed for one:
1/16 size rectangle of wax. 4" by 2"
The rest of materials are the same as above.
Directions:
Lay each sheet down lengthwise.
Cut sheet in middle.
Cut half in half again.
Cut each 1/4 into 4" by 2" pieces. (you now have 16 rectangles)
See directions above from step 5 on.
---


Parafin Sheets Rolled Tapers For Shabbat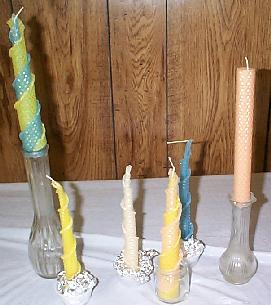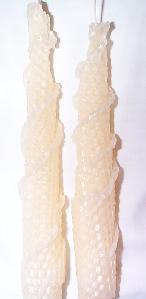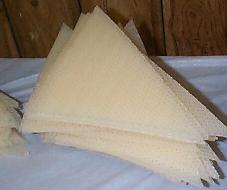 Thanks to Jill W. for her help designing these candles.
These are rolled like the beeswax sheets. But at the end you take your finger and gently roll the edges over to give them a ruffeled look. Also pictured is a round large taper candle that is cut from a rectangular sheet and rolled smooth.
---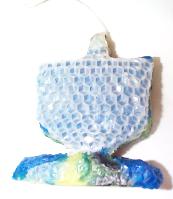 See Eileen's Chanukah Table Candles- Layered Beeswax Candles Using a Cookie Cutter I made the craft for Shalom Boston's Chanukah pages.
---
Check out my Candle Page for more information on making candles.

For more Rolling and braiding of candles see see my Havdallah Braided and rolled candles.

Also check genwax.com. for information on where to buy sheets large and small quantities and great candle making lessons.

About.com - Candles and Judaism
Prayers and candle lighting times.
---

Jewish Nature Center.org's Shabbat candles
Jewish Nature Center.org's Shabbat candles 2 for Shabbat candles made in sand.
---
To return to the top of this page.
---