Chadis Crafts' Fun Pages
Also called Eileen's Camp Crafts

---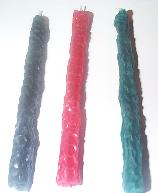 Eileen's Original Lessons:
Kwanza Rolled Beeswax Sheet Candles
---
LEVEL: Preschool to Adult

There are many special customs and prayers to make this a special time.

See My Parent/Teacher Resource page for more information on this Special Black holiday and the very special event where I taught these crafts.

See


Genwax.com
for information on where to buy the wax and great lessons on candle making.
See my Candle Page for general candle information.
---
Eileen's Kwanza Rolled Beeswax Sheet Candles

Kwanza candles come in all sizes.

The are made in Red, Green and Black.

General Directions:


Use thin wicks, not wire wicks, as it will cause the wax to burn too hot.
Tightly but gently roll all candles. (Air/bubbles will also cause them to burn too fast.)

I used a safety metal cutter for cutting cane/polymer clay slices. Safe around children
---
Style #1 Green, Red and Black Kwanza Candles Tapers 8"

Materials for one :

1 8 1/2" Thin (small bleached) wicks
1 right triangle sheets of wax made from 1/4 sheets. Total for one candle = 1/4 sheet.
Sheet of Wax paper or parchment paper to work on.
Computer label to write children's name on
---
Directions:
1 Place sheet long wise.

2 Cut into two 8" squares.

3 Cut each square diagonally. (now you have 4 right triangles.)

4 Take 1 triangle (place like a right triangle)



5 place one wick on to the bottom edge of the triangle. Press gently. A small amount should be left over the edge.
6 Roll and gently press down JUST covering the wick. (about 1/4")
7 Keep rolling and gently pressing VERY little at a time.
8 Gently press and roll out any air pockets.
9 Write child's name on label and place on finished candle.
Repeat for other colors.
---
Style #2 Small Candles 4"

Make in Black, Green or Red.
Material needed for one:
1 1/16 size rectangle of wax. 4" by 2"
(The rest of materials are the same as above.)
Directions:
1 Lay each sheet down lengthwise.
2 Cut sheet in middle.
3 Cut half in half again.
4 Cut each 1/4 into 4" by 2" pieces. (you now have 16 rectangles)
See directions above from step 5 on.
---

---
World Wide Web Kwanza Resources
---
For General Kwanza crafts and games see:
---
---
---
---
First-school.ws's Kwanza pages
Pre-school activities, crafts and lessons. Huge resources! Many subjects and holidays including Kwanza.
---

---

Preschool Education's Kwanza Crafts Has Kwanzaa Mat, Unity cup, Necklace, Kinara and Kwanzaa Flag
---
Kwanza books, music etc sold at Amazon.com

If you click on these links and order Eileen earns some free books to help her make more free lessons.

---
Web page and beadie designs ©1998 - 2019 Eileen Chadis Wood.
Use at home or in the classroom permitted as long as copyright is acknowledged.
---
This site is sponsored by Chadis Crafts at Etsy and www.chadiscrafts.com.