SUKKOT CRAFTS

---

What is Sukkot?
During the holiday of Sukkot
(Feast of the Tabinacles a Fall holiday in America)
Jews are commanded to dwell, eat, sleep in a temporary shelter (Sukkah)
to remind them of the Israelites journey of 40 years in the desert.
Many Jews build three sided structures in their back yards.
The roof is covered with greens or other items but allowing viewing of the stars.
Many are fancy structures but just as many are barely held together.
The whole family decorates the Sukkah with art and favorite things to make the time in the sukkah pleasant.
Many will try and sleep every night and eat all of their meals.
(It often rains though so many people have a clear plastic over the roof to keep the rain out.)
There are many special customs and prayers to make this a special time.
(See My Jewish Resource page for more information.)
Friends both Jewish and Non Jewish are invited over for meals or desserts during the 8 days of this holiday.
---
SUKKAH/SUKKOT Crafts
Pictures coming!
Decorations for a sukkah can be paper chains, berries or popcorn strung on thread,
old New Year cards, posters or what ever YOU find pleasant to look at to make your time in the sukkah pleasant.
The trick of course to all of these decorations is how to survive the outside weather and animals.
Traditionally teachers and parents have used plastic flowers and fruits to trick squirrels and birds.
Or they have used real dried corn, popcorn and berries welcoming our feather and furry friends.
Clear contact paper and laminate are used to cover art work and cards to water proof them.
HOW ABOUT A NEW IDEA?
HARD TO FIND SOMETHING NEW?
HOW ABOUT A SIMPLE ONE?
Clear Plastic Bags!
---
Clear Plastic Bag Crafts
---
Use the small craft organizer bags found at the Dollar Store and all craft stores in a variety of small sizes.

They come in a variety of small sizes from 1" by 2" and larger.
They are ziploc bags so some creativity is needed to hang them with out allowing rain to get in.
So stapling is better than hole punching.

Things to fill the bags with:

Jewish Confetti, Confetti, Glitter etc

If you don't want to fill a bag with confetti, glitter etc,
you can take a little clear drying glue, open the bag and glue a little on the inside.
Shake in the confetti and shake out what ever does not stick.

Paper punches in Jewish designs
New Year's Cards or part of a card
Glow in the dark objects
Rubber stamped construction paper colored with gel pens or glow in the dark pens.
Sukkot themes can be fruit, flowers etc.
Israeli and/or American flags. Any size that can fit into a bag but don't forget the cupcake decoration size!

With all art work make sure to place something on the front and back as the wind will blow these around.
---
How to display your bags
---
Make a chain or garland.

Staple them over hemp, gymp etc in groups and hang from the roof or hang them along a wall.
Glow in the dark gymp/lanyard would add to the fun.
Hang them in groups but hang them straight down in a line either on a wall or from the roof.
Make sure to leave head room.
---
More ideas and pictures coming soon.
---
Click here to see my favorite sukkah craft
Eileen's Edible Sukkah Project perfect for Preschool to Adult

---

Check out our sponsor
Chadis Crafts For Sukkot Jewelry for sale.
Pins. More styles available: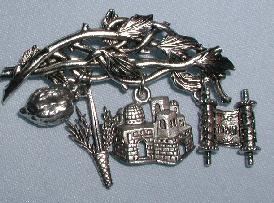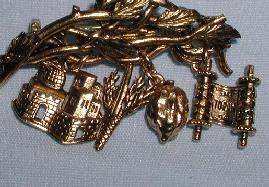 Earrings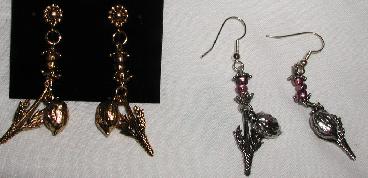 Plus Wine charms, tie bars, stick pins, Book marks,Kippah clips, key chains and more!