Chadis Crafts's Fun Pages
Needlecraft Page:
Fabric Crafts, Knitting, Crocheting,Quilting, Embroidery, Sewing, No Sew Projects and more!
---
My Braiding and Needlecraft pages were getting to big. I have finally given my Jewish Needlecraft links their own page!

For Braiding, gymp and lacing see my see my Braiding pages.
---
Eileen's FUN Eyelash and Speciality Yarn Projects
Great, Quick Projects for All Level Knitters and Crocheters.
---
Links about fabric bowls and fabric
---
Home and Garden TV's Fabulous Fabric Bowls
Free Instructions and supply sources.
sewnew.com's Bowled over
More instructions and resources.
kayewood.com
Kaye Wood's Quilting Friends! on PBS will be offering lessons on fabric bowls
Kayewood.com offers quilting supplies, lessons and tips.
Fabric.com Coupon Corner
Interfacings, fusibles, and stabilizers at Fabric.com

Great source for fabric, sewing notions, patterns and more
---
Sewing Juice Pouch Purses and Crafts
---
AM I THE ONLY ONE THAT IS JUST DISCOVERING THIS CRAFT?

You use Kool-Aid, Capri Sun and other juice pouch packages to sew pocket books, belts, wallets, coin purses and more.

I guess as I refuse to sew I never noticed these.

Really Cute!
For those that have asked me to find directions, here they are.

About.com's Juice Pouce purses links
some of the links don't work but there are great links to directions on this site.
Kool-aid coin purses
Short page on making coin purses
Needlepointers.com's Kid's Corner Juice Bag Purse and more
Has a lot of great lessons/patterns for you to use.

Any one have pictures that I can use?
---
NO SEW PROJECTS

For those like myself that do not use sewing machines. (Or irons if I can help it!)
---
No Sew Yarn Easter Eggs
---
Yarn Easter Eggs by Lion Brand Yarn Company
Cover Styrofoam eggs with yarn. Easy gluing project. Great way to use up scrap yarn.
Love the boucle' yarn eggs!
---
Fleece-Embellished Flip Flops
Crafts @ joann.com!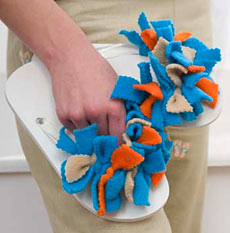 No sew free project at Joann.com


They even sell bags of fleece pieces so you don't have to CUT!
---
Fun With Fleece Projects
Has many projects that require no sewing! If you visit one of there stories you may even find a free booklet with all of these patterns printed out for you. I bought material and inspired by Lori of Lori's Original Fabric Crafts I plan to make some No-Sew pillows to match the Twice Warm Fleece Blanket she made for me. They say you can make a pillow in about 30 minutes! You cut two squares of fleece and with a scissor or rotary cutter you just cut fringe stips all around the square and tie together. These are not the full directions but you get the idea! Besides the new sew blankets and pillows don't miss the No-Sew frindged Purse!
---
FRINGED SCARF

I have seen people make No-Sew Fringed Scarfs that were fringed all around. It looked real cute. The fringe can be done short strips but also long. It is an interesting look can't describe it but reminds me of a boa. Just depends on how wide you make the scarf and how long you cut the strips to tie into fringe.
---
Eileen's Knit Tips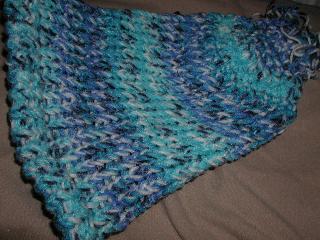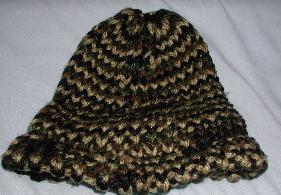 ---
Can't knit on circular needles or can't knit at all?
Try using Knifty Knitter Looms for making hats.


Knifty Knitter from Joann.com
The directions were not great for making the hats but there are booklets to help you.
I used the next to largest loom for adult hats.
I really liked the Red Heart acrylic yarn that self stripes and has camouflage colors by Bernat and Red Heart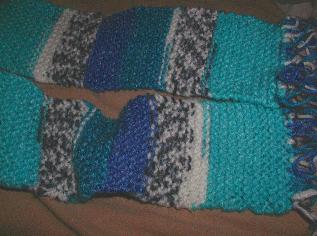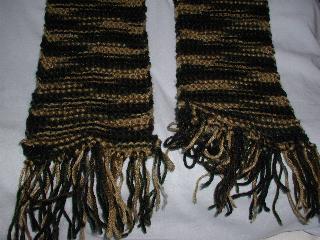 This is the same yarn as the hat.
The striping just works better in short rows.

---
Loom knitting books from Amazon.com



Find more loom knitting books by clicking on Knitting and Crocheting Books in green on right.
---
---
---
Needlecrafts and Yarn Sources
Some with Free Projects:
---
Jo-ann.com
Has many free lessons inclucing yarn and sewing projects. They also sell many needlecraft, fabric and yarn products. They sell their own brand of yarn including some fun furs and boucle'. They also sell ladder and ribbon yarn. They carry many brands including: Lion, Bernat, Patons, Lily, Coats and Clark, Caron, Moda Dea etc.

Here are links I thought you might find useful from Jo-ann.com

Sale on Yarns Now!
They seem to have a new sweepstake ever month or so!
No purchase necessary.

Check out Moda Dea Yarns!
They also have free patterns for crocheting fun fur flip-flops.
Lion Brand Pattern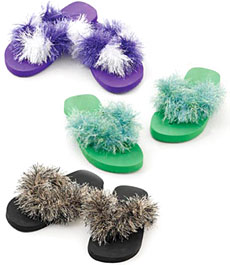 Can't crochet? Eileen will crochet one for you.
See chadiscrafts.com
---

The CraftyNeedle (California Stitchery)
As California Stitchery and Crafty Needle they had been in business for over 20 years. Now Crafty Needle has new owners and moved to Florida. Lots of new things. You'll find: stamped cross stitch, counted cross stitch, crewel embroidery, paint by number, longstitch, crochet, latch hook, and any other kind of stitchery here. They also do custom designs. They also have a large selection of Jewish kits. They are constantly adding more designs to their extensive collection of handpainted needlepoint kits for Tallis Bags and Tallis (attarahs)collars.
---
Create for less.com
Has great resource/craft advise by Maria Nerius plus a great store with discount
---
See yarn companies below, my eyelash yarn pages and my supply source pages for more stores and companies for supplies.
---
NEEDLEWORK LINKS:
---
Head Huggers Free Patterns
Hats for adults and children many can be used for Chemo Caps
---
Elaine's Craft Corner's Knit & Crochet Patterns
She has patterns many for Christmas including a wreath pin. She also has a crochet "watch" Cap. She has great craft recipes too, see my other pages for more links.
---
---
Crochet Partners Patterns Library.
A huge collection of free crochet patterns.
---

Just Plain Fun Crochet Club.
Sells patterns to members but also has many of free crochet patterns and lessons. Including some very unusual crocheted jewelry.
---
Patty's Filet and Crocheting Page
Patty's Crocheting lessons is a great source for adults and teens. Pages of directions and pictures.
---
CD2000
Crocheting and Lace projects mounted on CD's. This was a special exhibit in England with people for many countries participating. I am listing this one just to inspire you!
---
Smartcrochet.com
Some free patterns and lessons plus a way to buy patterns.
---
---
CrochetKim.com
I meant to list this site a long time ago. It has a huge list of links to lessons & patterns. Some of the patterns are free some for sale. Also offers help finding crochet items for sale especially for weddings.
---
Hancock Fabrics Free Project pages
Holiday projects (Mostly Christmas), Home decor, Quilting, Apparel, Crafts, Fun with Fleece and more!
---

HGTV's Needle craft project lists
Crocheting, embroidery, Japanese Needlecrafts, Knitting,Needlepoint, Ribbons and more. Hundreds of projects and lessons.
---
Links To Yarn Companies That Have Free Patterns:
---
See my Jewish Resources Page and my Supply Pages for links to needlepoint and other craft supply companies.
---
Coats and Clark.com's Free Lessons
Sewing, Knitting, Crocheting and more. Plus check out their Educator's programs. They now sell eyelash yarn under their own name and a new name. Moda-Dea. Foxy is one of Coats and Clark's eyelash yarn.
Moda-Dea yarns has free patterns, just click on the picture on the page I have linked to for a printable sheet like you see in the stores.
---
---
---

Lion Brand YarnSince 1878.

This is one of the companies selling the "fun fur"/eye lash thread for the scarfs that everyone seems to be crazy about. Including me! I have crocheted a few and now knitting one. I will include pictures soon. I have found this yarn in many stores.

Free Knitting and Crocheting Patterns

Many free patterns and projects for adult and children sizes. Clothing and fun accessories.

A few of the "Fun Fur" Projects:

Available for knitting or crocheting bags, coats, scarfs and more.

Free Knitted Chemo Cap Pattern for Fun Fur.
Of course it can be used for anyone wanting a fur hat. But for those of us that have had friend's who needed Chemo Caps this is adorable. This comes with two patterns for straight needles or double pointed needles. A crocheted chemo cap pattern is coming.
check out their patterns for kids.
Most are for the teens/children to knit and crochet themselves. Check out the pocket pets! ( I have pictures of them on my Eyelash yarn project pages
Check out the President Obama and Mc Cain finger puppets above in my second column!
---
Straw.com
Yarn company that sells Crystal Palace Yarns. Eye lash yarns and more! They have really great pictures of their yarn. See: online sample cards of there yarns
Free Patterns and info on where to buy Crystal Palace and other yarns. Great yarns for making eyelash scarfs. They have many other free scarf patterns using many different yarns. If you know which of their yarns you want to use check out this free pattern index.
---
Fuzzy Galore's Scarf plus other free patterns.
---
Bernat.com
Bernat yarn also has many different kinds of yarn including eyelash yarn called Boa and Eye Lash. They have free patterns for scarfs and other things for crocheting and knitting but you have to sign in as a member to get the full directions. You do have to give personal information to do this.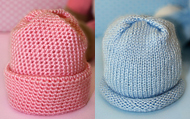 Bernat Preemie Hats- Free pattern for knitting and crocheting.
---
Sugar'n Cream Yarn by Lily
Also has free patterns for knitting and crocheting using their yarn. Your membership in Bernat.com works for both.
---

This company that has been around over 100 years has some great web pages. It makes threads for needlework. Crocheting, knitting, needlepoint, etc.
Their web site has many great links and free projects.
Crafts to make with threads.

---
Jewish Needlecrafts have moved to their own pages.
Find Yarmulkah patterns,blogs, needlecrafts, embroidery and more
Finally getting long enough to seperate into a group of it's own!
---
---

A first for Chadiscrafts, Eileen is asking all of her followers to check out these amazing college students' senior project.
Yes, these are friends of my sons that attend Maryland Institute College of Art In Baltimore, MD
But their project is amazing.
Taking a stash of fabric scraps from a grandmother, digitizing and making new fabric that they will then sew into clothes and hats.
Their project is to have 2 full fashion shows.
Handmade clothes and millinary hats!


Click here "MAmA Said"to go to the kickstarter page for the full description.
Their goal is to raise $1,200 by Feb. 23.
Every dollar counts!
Remember this is a pledge, as with all kickstarter projects, if they do not reach their goal, it costs you nothing.
Pledge from $1 to $500.
Please support these young artists.
They more than doubled their goal. Thanks to all that supported them.

---

Charity (Tzedakah= Hebrew) Needlecrafts Projects

My site had always featured charity projects but the pages are getting too long. So I am starting a new page for charity projects.

Needlecrafters have long donated their projects to charities for craft fairs for Temples, Churches, Hospitals etc. The internet is full of ideas and groups. I will feature some on my new pages for charity (Tzedakah in Hebrew) projects, crafts and stores.

This will include the wonderful Prayer Shawl Ministry, Knit One Save One, Chemo Caps and more.

---

Save the Children's Knit One Save One Campaign

Join the Hollywood stars and knit or crochet a hat to help save children all over the world from hypothermia.
Part of their Survive to 5 (age 5) Campaign.
Free patterns below on my site from many sources including the preemie hats from Bernat yarns.


Lisa Edelstein Star of the TV Show House


---


LION BRAND YARN
PRESIDENTAL FINGER PUPPETS TO CROCHET
Free patterns.

President Obama

Personally I think the Obama puppet is too dark to look like him but I think the puppets are cute. They used wool ease and looks like all of their browns are very dark. Possibly if you use a different lion yarn you can make it more realistic.


Senator Mc Cain
---
Knitting Machines
---

From my research it seems the best buy is to buy the deluxe model. It comes with an extension, counter and the attachment to make designs into your knitting.
You can buy it from the manufacturer or Joann.com
For some of the little extra accessories and little tools you will have to go to Bond the manufacturer.
Eileen just treated herself for the holidays to a DELUXE ULTIMATE SWEATER MACHINE.

---

Jelly Yarn

Vinyl Yarn to Knit and Crochet

---
Jelly Yarn is not cord or flat lanyard but round pliable vinyl that is specially formulated for knitting and crochet. Authors Kathleen and Nick Greco wanted something different, cool, and modern. They introduced a new yarn under their Yummy Yarns brand: Jelly Yarn. Available in Fine and Bulky weights, there are 9 translucent and opaque colors aptly named: Black Licorice, Blue Taffy, Pink Parfait, Raspberry Sorbet, Lemon-Lime, Ice, Hot Pink Candy, Orange Sherbet, Ice and Honey Gold. The yarn is ideal for fashion accessories, and patterns are available for purses, handbags, beach and market bags, belts, bracelets, and even flip-flops. The resulting knit fabric is a glossy texture that is retro with a techno flair.




TIPS:


Suggestions are made to knit using metal knitting needles, so I tried crocheting with metal crochet hooks.
They suggest you double the yarn on pocketbooks.
---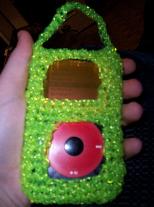 Eileen's Hand Crocheted U2 Ipod Case
Using about a half a ball of
Yummy Yarn's Fine Lemon Lime Jelly Yarn
Of course with my love of working with plastic/vinyl, I had to try knitting and crocheting with this new yarn. Of course that also meant I was curious if a tighter stitch would make items more cost effective.
Seemed to work.


I was in a fun mood, so I tried crocheting a Ipod case for my son's 20gig Ipod
I found that I used a very large metal crocheting needle and it was too large. The case would stretch out of shape when I pulled the Ipod out of the case a few times.
I plan to try some other projects soon.
(I really want the new gold metallic!)
It was fun working with the yarn.
---
More yarn companies with great free patterns.
---
---


---
Ultimate knitting machine now on sale at Joann.com!
---
---
See my Eyelash and Fun Fur Pages
for more information about crocheting Leis with eyelash yarn.

---

Check out the wool felted knitted bags that Eileen made.
They are for sale on her business site.
Chadiscrafts.com's felted bags


---

---

---