Chadis Crafts' Fun Pages
CAMP CRAFT PHOTOS:

---
All of these crafts were made by son's Ronin and Micah, when they were between the ages of 3 to 10 years old.
---
SCULPEY CLAY PROJECTS: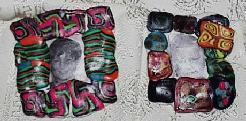 Sculpey Clay Pins
Transfer of pictures onto the clay.
Pictures of Ronin amd Micah 1997. Transferring pictures on to clay is discussed in many books. Old zerox machines work well for the picture to transfer. I have seen articles showing success with color transfers using a color copier. The picture is laid on white clay much like we use to transfer newspaper onto silly putty. Lay the picture on the clay and put a flat object on the picture to keep it flat. Some say over night but I have had success after a relatively short time. Peel a corner of the picture gently, if the pictures does not look perfect replace it for a longer period. Designs and decorations are up to you.

---

Jewelry, Covered Pens, Hebrew Name Room Signs, Hebrew Name Necklaces, Mezzuzahs, Light Pulls, Mezuzzah Necklaces. Clay Covered Baby Food Jars For Sand Art And For Havdallah Spice Jars. Directions for these crafts and more are on my new page for baby food jar crafts

---

Clay Mezzuzahs. Each year parents ask me to make more mezzuzahs.
See my

direction page.
---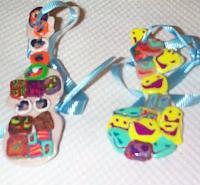 Clay Music.
Using white sculpey clay and cookie cutters in the shape of a guitar/violin and music note that can be hung on the wall. Added cane slices of colored Sculpey on top of the white clay. Made a hole before baking to add ribbon for hanging.

---

Ronin's


Clay Covered Pen.
We used the cheapest Papermate pen. (opaque white) Make a test one first before you do this with a class. I have used the same Bic Pen for years only to have them bend and explode now. The Papermate ones seemed to work but then I had trouble. I then tried a Bic Pen (Bic Round Stick ) that was white opaque. I was even able to remove the ink with pliers before baking. Which was great in that you could replace the ink when it runs out. Many suggest you put the ink supply back in while still warm. I have done it both ways.
I use white sculpey for the base to cut costs. But you can put your slices directly on the pen. (check out Ronin's great smile cane. )
See See my Senior Citizen Clay Projects for more Clay covered pen projects.
BEADIE ANIMALS:
Ronin (then age 9) and Micah (then age 7)



See my beadie page for directions
---
MAGIC DIP AND SALT CLAY PROJECTS:
I could not find a web page for the Magic Dip company but someone wrote and gave it to me. See my Parent/Supply page. You can order online! It seems to be now available in toy stores. I use a large fish tank. The kids like to watch the colors swirling in the water. Make sure to be in a well ventilated room! I like this paint better than tye dye.

Magic Dip: Tile Shalom Trivet, Shabbat Shalom Challah Cover,Tzedakah Bank (Charity),Yarmulkah and Pen.
The year before we made black kippot with magic dip and their special sparkles. We also dipped some tapered candles and Shabbat candles. They came out great. For fun we also made a challah cover to use on holidays. Most of us have many Shabbat covers after a few years of camp.

---
---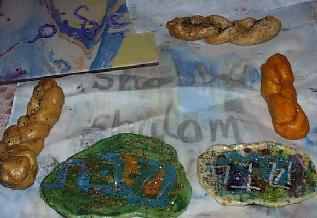 Salt Clay:
Make Believe Shabbat Challahs and Challah Boards.

---
COPPER RUBBINGS, SUNCATCHERS,
BINGO BOTTLES PAINTED FRAME :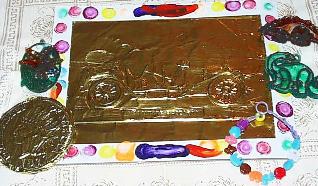 PLASTER ART AND SALT DOUGH FLOWERS
(on broom):
Plaster Jewish Mini Frames, Family Tree and House plaque.

Plaster fruit plaques & Plaster on balsa wood plaque,

---

JUDAICA
SAND ART AND SUNCATCHER:

---

Jewish Educational Toys sells assorted sand art boards in Jewish designs in bulk packs. They sell wholesale with a $100.00 minumum for each order.

---

To return to the top of this page.

---

Where to buy BULK Craft Kits
See S & S Worldwide store below the source for many of the crafts we made.


I used their molds for plaster and added a paper clip when plaster was still wet for a hanger.
Also great for Sukkot crafts.