If you are like Eileen, and do not really sew, here is your chance to get the some of the hot new crafts.
Professional quality.
It is Eileen's pleasure to recommend these items
.
---
Judaic (Jewish Pattern) FABRIC BOWLS
---
What are fabric bowls?

Fabric bowls are hand crafted bowls that are washable and reversible.
They are hand cut from 5 or more layers of material.
Top and bottom are usually cotton but tapestry and other materials can be used.
In the middle is a stiffening material similiar to what is put inside the brim of a baseball cap plus fusing material.
The material is cut and fused to the stiffening cloth.
The material is then machine darted and edged with embrodiery thread.
This makes the sides stand up. Very creative construction.
---
Large Fabric Bowls
Large enough for a dozen of bagels, rolls, fruit etc.
PRICES AND MEASUREMENTS SEE BOTTOM OF PAGE.
---
FOR FABRIC BOWLS THAT
DO NOT HAVE JEWISH FABRIC CLICK HERE.
---
Reversible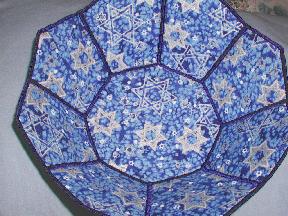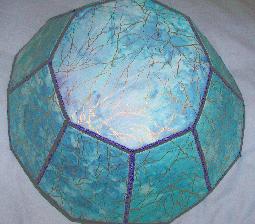 Style - Lori's Stars on Blue/turqouise & gold back
---
---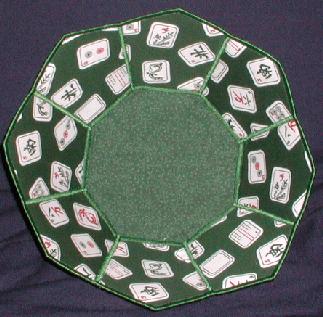 Style - Lori's Green Mah Jong
---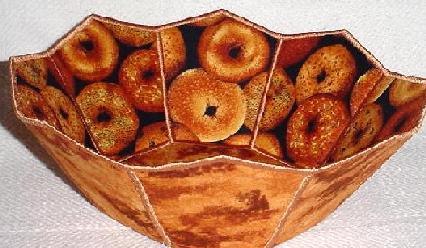 Style - Lori's Bagels
---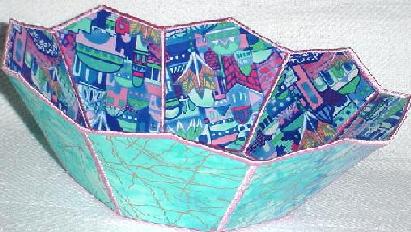 Style - Lori's Jerusalem
---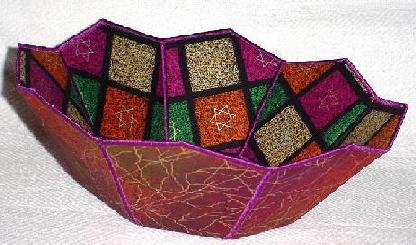 Style - Lori's Stars in Squares
---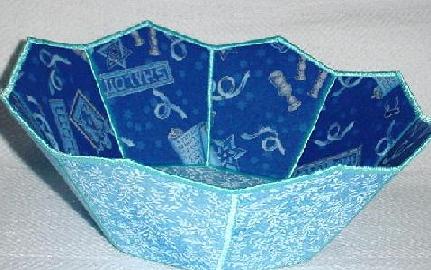 Style - Lori's Shabbat
---
---
MORE FABRIC BOWLS

Great for artifical fruit, real fruit or candy.

More shapes coming.

How about using one to hold all of your remote contols!
---
Channukah
---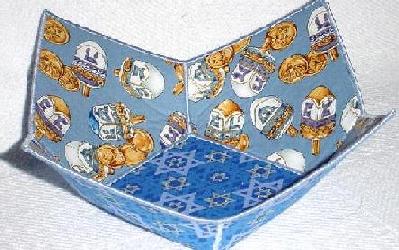 Style - Lori's Dreidels
---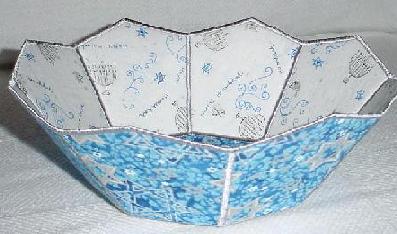 Style- Lori's Hanukkah2
---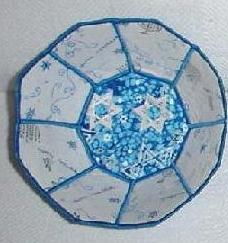 Style - Hanukkah2small
Candy or Nut size

---
All fabric bowls pictured are the large size bowls except where noted below.
---
Most Small bowls: 4" across bottoms, 7" across top and 3 1/2" deep
$15.00 each and up. Shipping extra..
Most large bowls: 6 1/2" across bottom, 11 1/4" across top, 4 1/4" deep
In Jewish Fabric $30.00 each and UP. Shipping extra.
---
ALL PRICES ARE DEPENDENT UPON FABRIC AND ACCESSORIES USED.
SPECIAL ORDERS ARE ACCEPTED BUT MAY COST MORE THAN PICTURED ITEMS.

ALL PRICES DO NOT INCLUDE SHIPPING.
---
To order from Chadis Crafts' Visiting artist
Email her directly at Loriscrafts@gmail.com
---
MORE NEW PICTURES
SEE NEW PAGES OF LORI'S CRAFTS
Bags:
Insulated lunch bags, Totes, Sports Bags, Pocketbooks, and more.
---

Like the looks of these bowls but want to try making them yourself?
Buy the book from amazon.com

All profits from buying these book by clicking here helps support my educational craft site. Chadis Crafts' Fun Pages
---
Fast Fun & Easy Bowls & Fast Fun & Easy Boxes
Both books by Linda Johnson

---
---
High Holiday gifts from our visiting artist, Loriscrafts.com
---
Table Runners, Coasters, Wine holder and more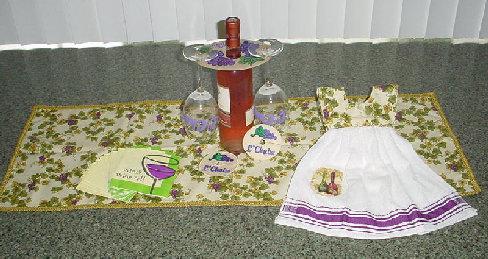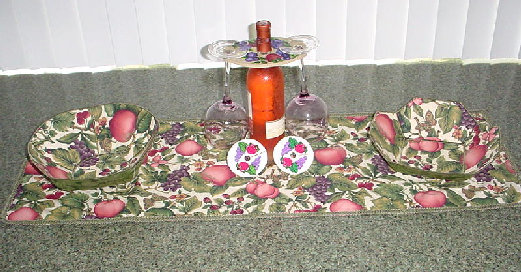 ---
---
Lori's Crafts
---
Jewish Fabric Insulated Lunch Bags
To see other lunch bags that are
not in Jewish fabric.
---
Large enough to hold 6 cans of soda!
Velcro closing.
Strong Handle
8" L x 6 1/2"H x 6" W
$15.00 each and Up.
Shipping extra
---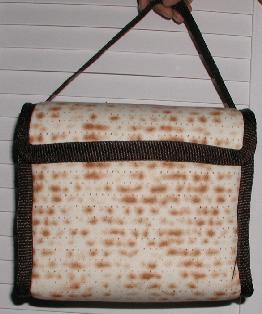 Style- Matzah Insulated Lunch box.
Perfect for Passover lunches for children or adults.
---
To see other fabric tote bags,
(Not Jewish)
Click here
---
Jewish Large Shoulder Tote Bags
Fully lined.
Inner and Outer Pocket
Hand Sewn Strap for extra strengh
Most 16"L x 12" H x 4"W
$45.00 & Up.
Shipping extra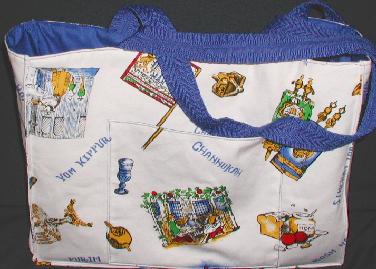 Style - Jewish Holidays
---
Extra Large TAPESTRY BAGS
Jewish and Other Patterns.
Most zippered
---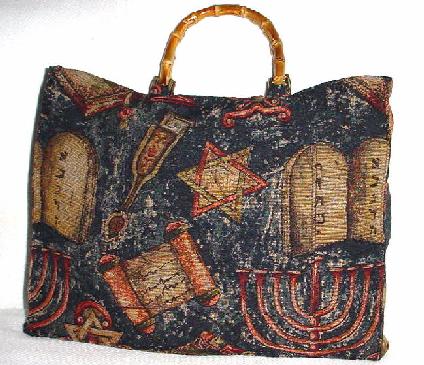 Style - Jewish Tapestry
Tapestry fabric costs much more than other fabrics
It is also harder to work with.

Tapestry is therefore extra.
Quality bamboo handles sewn in.
---
---
Lori's Tallit Bags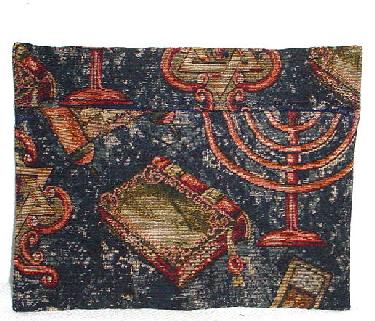 Style Lori's Tapestry Tallit bag
zippered
---
Tallit bags - $15.00 and up plus shipping.
---
---
Fabric theme's are endless with Lori's Crafts.

Check out her new machine embroidery crafts!
Custom orders are her speciality too!
Her workmanship is great and that is why
Eileen and Chadis Crafts' are proud to recommend her.
---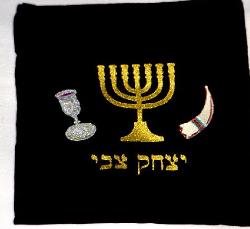 ---
Challah Cover For Shabbat Before Yom Kippur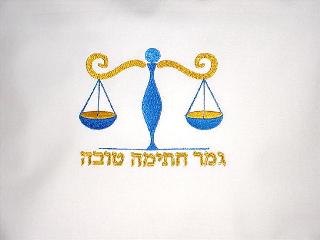 ---
Lots of new items for all holidays.
---

Great Chanukkah Gifts and Judaica
A few samples of her gifts
---
Embroidered Guest & Kitchen Towels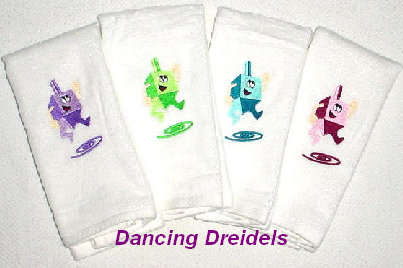 Many styles and colors available
---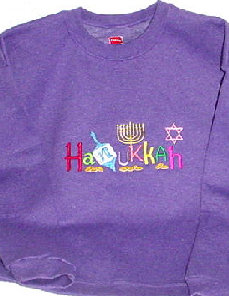 ---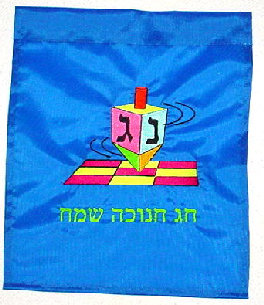 Yard flags in many designs and colors
---
Hanukkah challah covers