Welcome to CHADIS CRAFTS' CATALOG #3
Fiber Arts and Knit Wear Catalog
© CHADIS CRAFTS ORIGINAL DESIGNS
Designed by Eileen Chadis Wood.
---
Click on the item below to see pictures and prices.
---
Knit and Crocheted Gifts
---
SCARVES AND BELTS:
Mens and Womens' Cowl Neck Scarves
in 100% cotton, wool and more.
---
Knitted Belts Includin Queen Size!
Knitted Belts
---
Adult Scarf, Hat and Glove Sets
(Children Hat and glove sets coming!)
Now making wool felted hats.
Email Eileen for custom orders.
---
Trimmed Stretch Gloves and Mittens
---
Felted and Cloth Beaded/charmed pins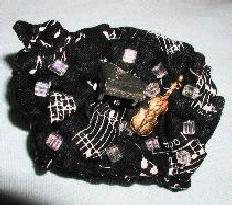 ---
---
Hand Crocheted Fun Fur Trimmed Decorations:
Fun Fur Trimmed Wooden Wreaths
---
Footwear

---

Flip Flop Sandals/slippers -- Now 5 pages long!


---
Crocheted Trimmed Fun Fur Flip Flop Sandals or Slippers
Metallic Fur Evening Wear Sandals and Slippers too!

Plus Flip Flop Prints - Prints designs in the sand!

Children and Toddler Sizes
Girls, Teens and Women Sizes
Mens/Size 11 or larger Ladies
Custom orders and Gallery of Sold Ladies Styles
---
Non Skid Slipper Socks
---
Purses:
Fur Trimmed Mini Purses!
Satin, straw and more.

Hand Knitted/Crocheted Wool Felted Purses and Totes

Custom designed
Wool Felted Computer Lap Top Bags
Lap Top Protective Sleeves
---
GIFTS CERTIFICATES ARE ALSO AVAILABLE.
---
---
---
---
New Editions Added Weekly So Visit Often.
---
eileen@chadiscrafts.com
---
Click here for ORDERING INFORMATION.
---
CLICK HERE TO PLACE AN ORDER.
All Kippot/Yarmulkas are priced each and shipping is extra.
Special Pages Index Below- Click on underlined word to go to these pages