&copy Chadis Crafts Originals
Crocheted Fun Fur Trim Stretch Slipper Socks
Jewish Styles Available too.
Eyelash, Glowlash, Fun Fur, Boa and more!
Adult and Teen Sizes
To go to Children and Toddler Size Slipper Socks

Hand Crocheted Fun Fur Trimmed Slipper Socks
(Medium size)Stretches from size 4-8 Ladies
Longer and larger sizes are now available
Above ankle, calf length and above size 8 now available.
$10.00 to $12.00 plus shipping
Limited number available
with resin or ceramic Judiac beads $12.00 to $14.00 plus shipping
---
Jewish Styles Ceramic Beads



other larger resin buttons also available
---
---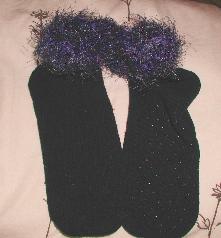 Slipper 1J
With large blue/gold resin Jewish Star(see picture below)
Navy blue sock
denim fur with longer lash multicolor light to dark denim fur
$12.00 plus shipping
---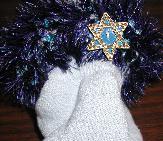 Socks 7J
Light blue socks
Blue/gold resin stars
blue/black tweed fur
white/turqouise chenille and fuzzy ribbon yarn
$14.00 pair plus shipping (Special)
---

#15J socks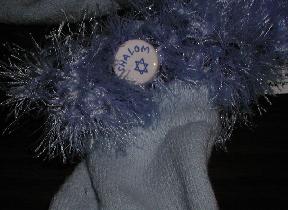 light blue glow fur
fuzzy chenille ribbon with blacks/grays/blues
$14.00 plus shipping
---

Large Size socks (fits up over 8+)Pictures coming
---
---
#16J Slipper Socks
Ankle length light gray socks
black glow fur with black/gray curly fur
Shalom bead with star
$14.00 pair plus shipping
---
#17J Slipper Socks
Black ankle length with dark gray bottom of foot
Black/gray curly fur
Ten Commandments beads
$14.00 pair plus shipping
---
$18J Slipper Socks
Black above ankle length
Black glow fur with black fancy fur (blue/purple balls)
Chai beads
$14.00 pair plus shipping
---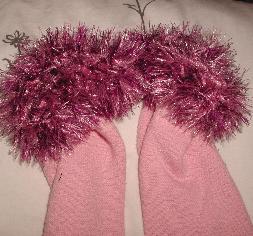 Socks 3J
pink slipper socks
Pink glow fur
purple glow fur
Large Ceramic chi beads
$12.00 pair plus shipping
---
Adult sizes
---
#14 Adult Socks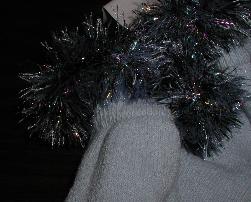 Light blue socks
Light blue glow fur
dark purple rainbow metallic fur
$10.00 pair plus shipping
---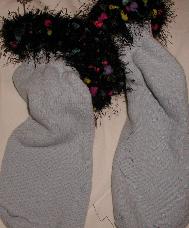 #2 Adult Socks
Light blue slipper socks
Black fancy fur with balls of yellows, pinks, purples and blues
$12.00 plus shipping(special)
---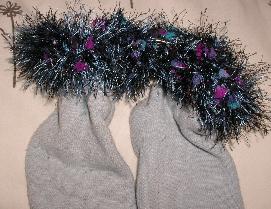 Adult Socks 4
Light blue slipper socks
Black fancy furs with purples and blue balls
plus light blue glow fur
$12.00 pair plus shipping
---
#11 Adult socks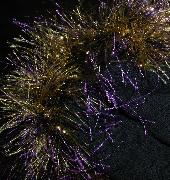 Navy blue socks
Gold metallic fur
Extra extra long purple fur
$12.00 plus shipping
---


Pictures coming
---
#14 Adult socks
Dark gray large above ankle adult socks
Gray and black curly fur
multicolor mini dots on blue/gray short fuzzy yarn
$12.00 pair plus shipping
---
#15 Adult socks
Medium size adult deep purple ankle socks
Lilac fur with deep purple metallic fur
$10.00 pair (special)
---
#16 Adult Black calf length socks
red fur with assorted colored (red,orange etc) fur
plus assorted color mini balls of red, yellow, blue and green)
$12.00 pair plus shipping
---
#17 Adult black calf length socks
black and tan tweed fur
Beige extra (very long) fur
$12.00 pair plus shipping
---
#18 Black ankle length socks with dark gray bottom of foot
Black/white tweed fur with silver festive fur
$12.00 pair plus shipping
---
#19 Adult black calf length slipper socks
blue denim fur with light rainbow fur
$10.00 pair plus shipping. (special)
---

#12 Adult Socks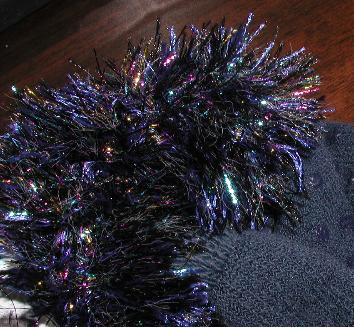 Navy socks
Blue/black tweed fur
Dark rainbow metallic fur
$10.00 pair plus shipping
---

#13 Adult Socks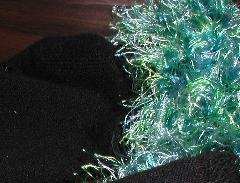 Black socks
light lime green curly fur
assorted green/turqouise boa fur
$10.00 plus shipping
---

#10 Socks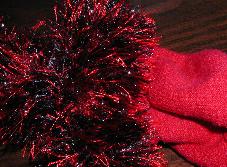 Red socks
Red tweed plus black glow fur
$10.00 plus shipping
---